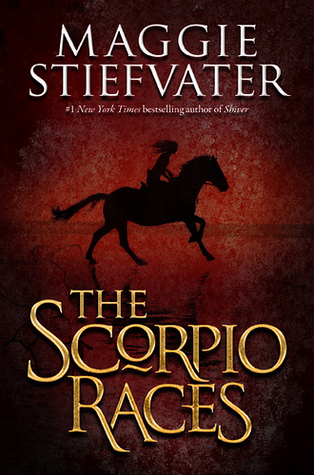 Some race to win. Others race to survive.
It happens at the start of every November: the Scorpio Races. Riders attempt to keep hold of their water horses long enough to make it to the finish line.
Some riders live.
Others die.
At age nineteen, Sean Kendrick is the returning champion. He is a young man of few words, and if he has any fears, he keeps them buried deep, where no one else can see them.
Puck Connolly is different. She never meant to ride in the Scorpio Races. But fate hasn't given her much of a choice. So she enters the competition - the first girl ever to do so. She is in no way prepared for what is going to happen.
As she did in her bestselling Shiver trilogy, author Maggie Stiefvater takes us to the breaking point, where both love and life meet their greatest obstacles, and only the strong of heart can survive. The Scorpio Races is an unforgettable reading experience. From
amazon.com
My Review
Yes. Yes. A thousand times YES.
She nails it.
As an avid horsewoman, I cringe reading horse stories because they often don't capture my love and experience--but
The Scorpio Races
handled the equine factor in this novel so well that my senses came alive with the smells of sweet feed, hay, horses, and heat. I could feel the dirt and sweat under my nails, feel the ache in my legs, the swelling of my heart I would have after a good ride.
And it's not just the horses: the story is solid, and the characters are real people. I am completely in love with this book.
The audio is not to be missed, either! Listen all the way through to the very end. The notes given by Maggie are excellent, and you fall for the author as much as you did the book!
10:32 AM | Labels: adventure, audiobook, Europe, fantasy, horses, young adult |  
This entry was posted on 10:32 AM and is filed under adventure , audiobook , Europe , fantasy , horses , young adult . You can follow any responses to this entry through the RSS 2.0 feed. You can leave a response, or trackback from your own site.